Browse auto transporters
Decide on your auto shipping company based on real reviews by previous customers.
Only relevant companies
The RideShipper app will display only companies that operate on your route.
Read real customer reviews
The best way to make a choice – read real reviews for each company available.
No in-app purchases
Using the RideShipper app is completely free, we will never charge you anything.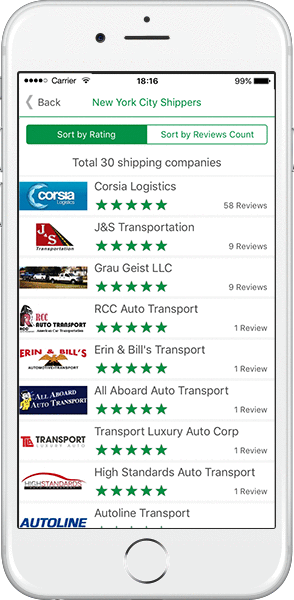 Save up to 40% of shipping costs
Receive multiple quotes will make companies compete for your job, driving costs down.
Only licensed auto transporters
Never get your vehicle delivered in bad condition – get a better quality service.
Get competing offers in no time
Getting an offer has never been so quick and easy + it's completely free!
No annoying advertising banners
See only relevant information about transportation companies and calculate costs.
Your vehicle rocks
Yes, that's right. Not only because it's yours, but because it really does. That's why you want it to be handled with care, and ultimately arrive at your destination in one piece.
What better way to find a reputable company than to read reviews from previous customers? Find shippers on your moving route by reputation, user-assigned ratings and opinions from real people. Read full reviews from previous clients of companies to know what to expect.
One app for all kinds of vehicles
Sweet car, cool boat, badass truck or any other kick-ass vehicle you want to transport? The companies in the RideShipper app specialize in the transportation of all kinds of vehicles you can think of – you name it!
Get a free auto shipping quote from the website
If you'd like to directly get a free custom vehicle shipping quote, simply fill in our auto shipping quote estimator to get your custom estimate.


Find a reputable and significantly save auto transportation costs?